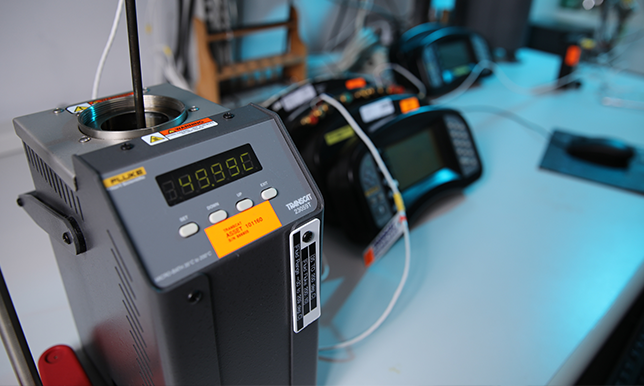 Why have your instruments certified?
With today's high quality standards such as ISO and QS9000, many companies have to modify their quality control procedures. A minimum annual certification allows your company to keep your instrument(s) running smoothly and at their optimum efficiency. With regular certification not only will you be maintaining the long-life of your instrument(s), but you will be guaranteeing accurate and reliable results every time.
ProSource Scientific offers a world-class calibration and repair service for all your test and measurement needs at very competitive prices.
Why should you choose ProSource Scientific?
Have all your calibrations, repairs and record-keeping functions combined under one unique service company

Fast turnaround service, resulting in a significant reduction of production line downtime

No evaluation fees for all repair estimates

Cleaning & minor adjustments are free of charge on all calibrations

Recall program: we will contact you approximately 30 days prior to your next calibration cycle with a follow-up confirmation letter to assure your instruments are calibrated on time
Quality Policy
ProSource Scientific is committed to providing our customers with superior service and calibration that they expect in terms of quality, performance, reliability and value. Quality is the job of every one of our teammates; therefore, teamwork and continuous training are emphasized to meet these goals. ProSource Scientific promotes our core values of honesty, trust, continuous improvement and taking responsibility, which translates into performance excellence.
Quality assured to meet ISO 9001:2000 requirements.

Professional Fast Service
ProSource Scientific offers world-class calibration services for instruments from hundreds of manufacturers. All of our calibrations are traceable to NIST and comply with manufacturer's specifications. Each instruments calibrated will be returned with a certificate of calibration listing before and after readings of the instrument at no additional charge. Individual quality requirements certification is also available.

Lab Traceability
Our environmentally-controlled laboratories consist of automated state-of-the-art master units that are traceable to NIST using documented procedures such as: Manufactures, ANSI, Military ISO and National Research Council of Canada. Customer specifications can be utilized if they are provided in writing. Standards used in calibration will have accuracy at least 4 times that of the test instruments being calibrated. In any instance where this is not possible, the customer will be notified before proceeding.

Certificate of Calibration
Each certificate of calibration will include the following at a minimum:
Instrument Manufacturer Model, Serial Number and Description

Date Calibrated and Calibration Due Date

Calibration Environment (Temperature, Relative Humidity and Barometric Pressure)

List of standards used on the calibration and the signature of the Technician
Listing before and after data is part of our normal calibration procedure when your instrument is returned.

Complete Repair Capabilities
Our factory-trained specialized technicians work quickly and accurately to reduce downtime and take the appropriate action to detect failure down to the components level in order to provide significant savings over replacement.

Warranty
All components of repaired equipment are guaranteed to be free of defects for a period of 1 year. Defective equipment returned to us during the warranty period are repaired and returned free of charge.

Turnaround Time
Normal turnaround time for calibrations is 3 to 5 working days. Customers will be notified of repair costs prior to proceeding unless previously authorized.

Scheduling
Our computerized scheduling program automatically notifies customers of recalibration due dates.